Submitted by Lyrositor on Abril 20, 2014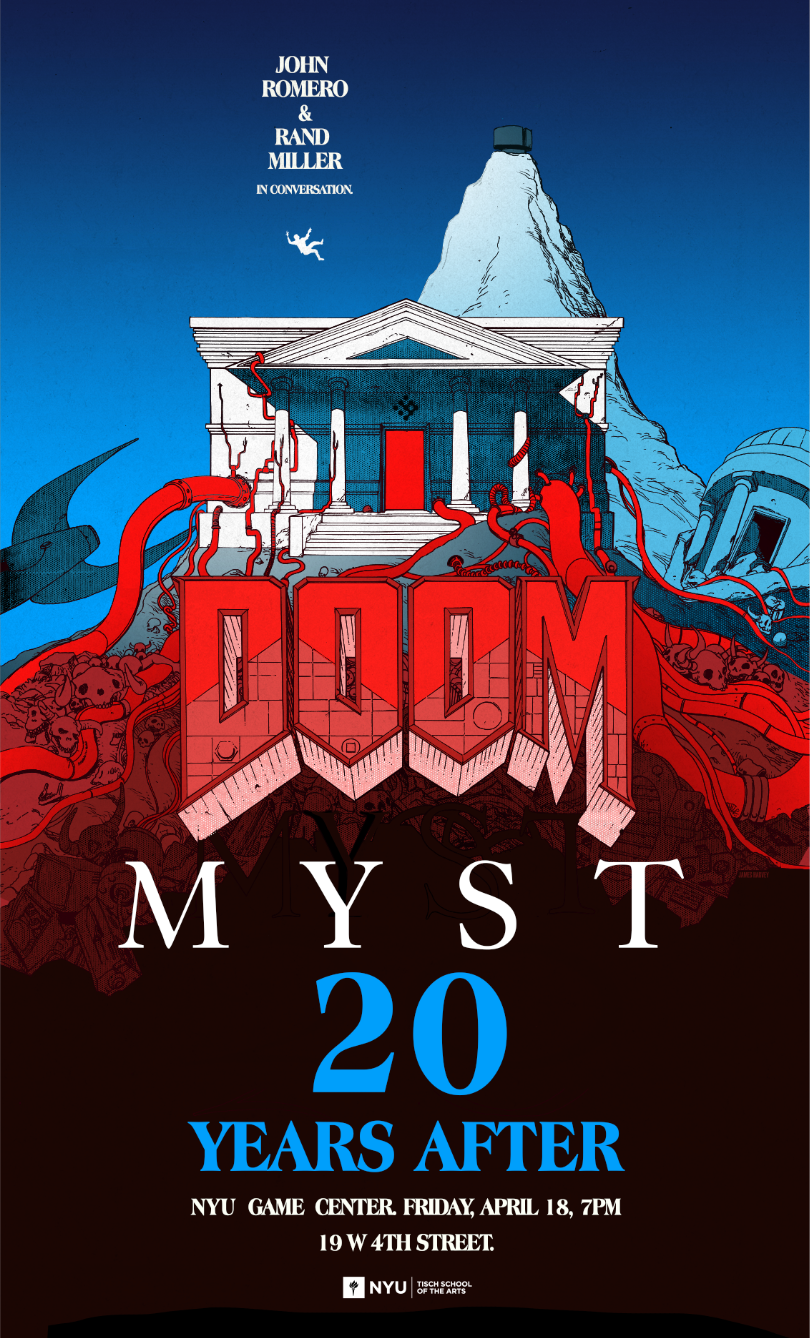 In a recent interview of Rand Miller and John Romero, the creators of Myst and Doom respectively, at the NYU Game Center, both of the legendary video game developers shared, among other things, their points of view on the other's game.
Doom and Myst were both originally released in 1993, and both were highly acclaimed, albeit for drastically different reasons. While Myst became synonymous with the graphical adventure game genre, Doom defined the modern first-person shooter genre for many years. According to the interview, their respective creators both initially expressed a feeling of incredulity and anger when they became aware of the others' game. Read more
Submitted by Max on Abril 15, 2014
The International's Hood in MOULa will have a Public Open Hood Day on Thursday 24th of April from 12:00 KI Time till 20:00 or even beyond that.
During this week there's The D'ni New Year that happens on 21st of April. I.H.P's One Year Anniversary... The International Mother Earth's Day... The Guild of Linguists become one year too. So why not try and have a Party?! Dance to the Music and have Fun!
We try also gather together as much as possible of the Creative Talents we have in the cavern. Writers, Artists, Age Builders, Musicians, and give them an Open Stage! Let them talk about what they are creating or doing, inspired or not by the Myst Universe. We'll try also to get as many Shards as possible presenting themselves.
We will also discuss a series of Guided Age Tours that could be done at some later point. For further Info and updates as we progress, see: http://mystonline.com/forums/viewtopic.php?f=66&t=27146
Or Feel free to contact either me max.2.0 or Keir by PM on MOULa Forums or in MOULa: KI Mails to I.H.P:Max or Kaaja/I.H.P.X or [X]...

Date of the event:
Abril 24, 2014 - 12:00
Submitted by Doobes on Abril 5, 2014
The first All Guilds Meeting of spring, and like nature, things have come alive! A very busy meeting this month. As always, we bring you the raw and cleansed chatlogs for your viewing pleasure.
Here's a summary of all that happened:
International Hood:
I.H.P:Max and Zeke365 were first up to talk about two of the International Hood's upcoming events. They will be having a Public Open Hood Day on Thursday, April 24th from 12:00 to 22:00 KI time. Stop in to discuss projects, stories, websites and ideas that you have. They will also have Guided Age Tours similar to Zeke's Cavern Tours for those interested in hearing the backstory behind the Ages. We will report more on those as details become available.
It's been awhile since we've heard from Vector Cramp and crew, but he stopped by to update the crowd on The Lost Art, a machinima project created by him and the MystiTech Productions team. The project continues nicely, and Vector says there will be something exciting announced very soon!
DIRT - URU Live/PyPRP Importer Read more